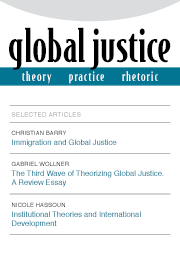 Global Justice: Theory Practice Rhetoric (TPR) is a peer-reviewed, open-access e-journal which publishes original research in international political theory, with special emphasis on global justice. We are particularly interested in bridging the gap between political theory, empirical research, and the study of political practices and communication. The conviction behind the journal's mission is that, in order to understand phenomena of global injustice, we must look both at their moral and at their empirical dimension, as well as analyse the political and rhetorical tools used by the actors who put forward global justice claims. We understand the journal's focus on global justice broadly, as encompassing topics such as world poverty, inequality, health, economic exploitation, democracy, trade, labour, human rights, humanitarian intervention, migration, and climate change (the list is not exhaustive).We welcome interdisciplinary contributions as well as contributions which draw on the insights of different methodological perspectives.
Starting with the second issue of 2015, TPR will appear twice a year in either special issue or symposium format. Special issues are entirely devoted to a topic and can be guest edited. If you are interested in proposing a special issue get in touch with the editors. Symposium-based issues include a symposium on a specific topic as well as stand-alone articles. Additionally, TPR specializes in good quality, extended reviews and review articles; for enquiries concerning this kind of contribution, please contact our review editors. All symposium-based issues and some special issues will be preceded by a Call For Papers.
Manuscripts will be sent for formal review, typically to two reviewers. The editors will then make a decision based on the advice of the reviewers.
TPR is generously supported by a development grant of the DFG (Deutsche Forschungsgemeinschaft, German Research Foundation), and is firmly committed to Open Access as a means to disseminate research findings.
TPR adheres to the Budapest Open Access Initiative definition of open access, according to which users have the right to read, download, copy, distribute, print, search, or link to the full texts of these articles. Users also have the right to crawl the texts for indexing, pass them as data to software, or use them for any other lawful purpose, without financial, legal, or technical barriers other than those inseparable from gaining access to the internet itself. Creating derivative works is not covered by the BOAI, and is thus subject to permission from the Global Justice Network.
All content published in TPR is transferred to the German National Library (DNB) for the purpose of long-term archiving.